See how Dressing Your Truth lights up this bright, animated Type 1 woman!
This is my friend Alyssa. We met at church when she came up to me and told me I looked stunning. A little later in the conversation, she said, "Hashtag Dress Your Truth!" and I knew she was a devotee of Dressing Your Truth, just like me!
Alyssa is so full of energy and light. She can always be found encouraging others and looking on the bright side. For example, when I told her I was having a midlife crisis, instead of consoling me, she said, "That's great! Now you get to be whoever you want and do whatever you want!"
What is Dressing Your Truth anyway?
Dressing Your Truth is a whole new way to think about style. It was developed by a woman named Carol Tuttle, who has written several books, like It's Just My Nature and The Child Whisperer.
These books teach you about four Energy Types that shape every person. Each Energy Type has certain characteristics and gifts. Once you know your Energy Type, you are ready to get started with Dressing Your Truth!
Dressing Your Truth throws conventional wisdom on its head and teaches that our natural energy should inform what we wear–not our eye color, hair color, skin color, or body shape.
It works for everybody, no matter their coloring or nationality. For example, red-heads can look amazing in muted colors if they are a Type 2!
The whole premise is that what we wear on the outside should match who we really are on the inside. Instead of trying to portray an image of what we think we should be (more bold, confident, fun, etc.) we should harmonize with our true nature. THAT is when we really shine!
What are the Dressing Your Truth Types?
Dressing Your Truth has four Types, named simply Type 1, Type 2, Type 3, and Type 4. (Just click on any of the following links to learn more about each Type).
Type 1 is the Bright, Animated woman.
Type 2 is the Soft, Subtle woman.
Type 3 is the Rich, Dynamic woman.
Type 4 is the Bold, Striking woman.
How has Dressing Your Truth changed Alyssa's life?
Alyssa has tried many different types of dressing. As a Type 1, she naturally likes variety! But she originally thought she was a Type 4, which is the complete opposite of a Type 1! Read on to learn about her path of discovery with Dressing Your Truth, and how her life is different now that she knows who she truly is.
How did you first learn about Dressing Your Truth?
I learned about Dressing Your Truth from a friend at church in 2017. She was telling me about how to dress according to your personality, which intrigued me, because I have always loved fashion and style. Interested, I looked up DYT on the internet and started to dive deep into the energy world. I liked the idea of being advised what to wear, but didn't really like being put in a box.
I thought for sure I was a Type 4. I was BOLD and intense and sometimes fun and cute. I took on a personal uniform and for about two years and tried so hard to be bold and striking and stunning. During these years, my sweet husband and others would often comment on me being "cute." But I would think, "Ugh! I am a Type 4 stunning woman! How can I be cute?"
I was pretty frustrated about this description, but many people continued calling me "cute." Even though I shoved the dismay down, I eventually found myself getting bored with my personal uniform and capsule wardrobe. I found I was not thriving in the world of black and white and bold colors.
In the summer of 2019, I thought, "Maybe I should look at DYT again." I kept having this thought, but I didn't want to listen. I didn't want to face myself.
But one experience I had really caused me to reconsider.
I had gotten very passionate about a lifestyle choice I had made and believed that others should consider. When I shared this with a friend, she LITERALLY BACKED AWAY from me. It was subconscious on her part for sure, and I wasn't mad about it, but I couldn't let the interaction go. Then this thought came to me: "What were you wearing?"
Black shoes with sparkles.
Black jeans.
Black and white striped shirt with a black jean jacket.
OH MAN! I had the thought that I should look at DYT again, and this time, I followed my intuition.
On August 7, 2019, I started looking into it again. I was pleasantly surprised to see that a rebrand had occurred, and I loved the look and feel of what I was reading and watching.
I looked up other people's experiences with DYT before I dove deep again. I found my friend Emily's experience here on Beautiful Life and Home. I was elated to find her on this website and wanted more answers. I was off to the races!
What attracted you to Dressing Your Truth?
I had to relearn that the system was NOT based on personality, but rather the energy in which you carry out your life. I loved that, because I have changed my personality and my characteristics many times. My energy, however, has NOT changed, and in fact, added to my personality in complementing ways.
You first thought you were a Type 4 and lived that way for two years. Then you discovered you were a Type 1. How did you come to this realization?
I had gotten bored with being a Type 4. It wasn't fun.
While texting Emily (mentioned above), she mentioned that Carol Tuttle, the creator of Dressing Your Truth, had a clearing for thinking you are two types. But this time, I was DETERMINED to figure this out. I spent three days prior to watching the clearing video obsessing about which type I was. I KNEW I was not a Type 2. And I KNEW then I was not a Type 4. So I was caught between a Type 1 and Type 3.
I watched and did the clearing and wept. I said a prayer at the end of the clearing and the phrase that came singing and ringing into my head was, "Bright and animated–didn't even know it!"
Memories of me having and BEING fun flooded into my heart. Going to the circus when I was five for my birthday with three friends; going to a big family restaurant for my 8th birthday with a bouncy castle; planning a play with my siblings; jumping on the trampoline ALL THE TIME; ALWAYS singing and ALWAYS dancing about.
What do you like best about being a Type 1?
I LOVE being a light in the room. Having the ability to come up with ideas and creatively have fun where most wouldn't think to have fun.
Also, all the clothes are so fun! People "get" me now, and I love getting all the compliments! People just come up and chat with me at stores. It cracks me up!
What challenges do you have as a Type 1?
Ha ha ha. TIME. I know time is my friend, and yet we still struggle :). I have struggled with chronic lateness.
Sometimes I can be too much for people, but I adapt quickly and respond rather than react.
Sometimes not being serious enough can be an issue as well. One time when I was just beginning my mission trip to Canada, we were watching a movie and someone died. I started laughing because of the way the actor portrayed it. My friend looked at me and said, "Sheesh. Death is a little serious…" Which made me want to laugh harder!
How has your life changed since learning about Dressing Your Truth?
OH MY GOSH! Everything in my life has changed! My marriage, my shopping habits, my friendships, the way I view others. Even my JOB changed!
I can see clearly now. It's like having a bright lantern with me and a pair of glasses on.
It has radically changed me to my core. Helped me face who I really am and allowed me to see who I can become and who I am meant to be.
Dressing Your Truth is an inspired system to help people know just a little more why they are who they are. AND THAT THERE IS NOTHING WRONG WITH YOU!
I used to think that there was something wrong with me because I was constantly moving and fidgeting. Now I know that it's just my nature. Like air, I expand and contract and adapt to the space and energy that is there.
Any other thoughts you'd like to share?
In order for me to know my truth, I had to be willing to really look at my WHOLE self and see who I was. Often times, our strongest strengths are shamed as our biggest gaps and weaknesses.
It's okay not to know who you are. Just open your mind and heart. You will flow to you. Your truth will come, too.
Wow! Wasn't that amazing? You can just feel Alyssa's energy and excitement for Dressing Your Truth!
I encourage you to click on the graphic below, or any of the other links in this post to learn more about Dressing Your Truth!
Better yet, watch me do a Dressing Your Truth Makeover on myself so you can see this in action. Then click straight from the video to get your free makeover!
Just click here to get access to my makeover video!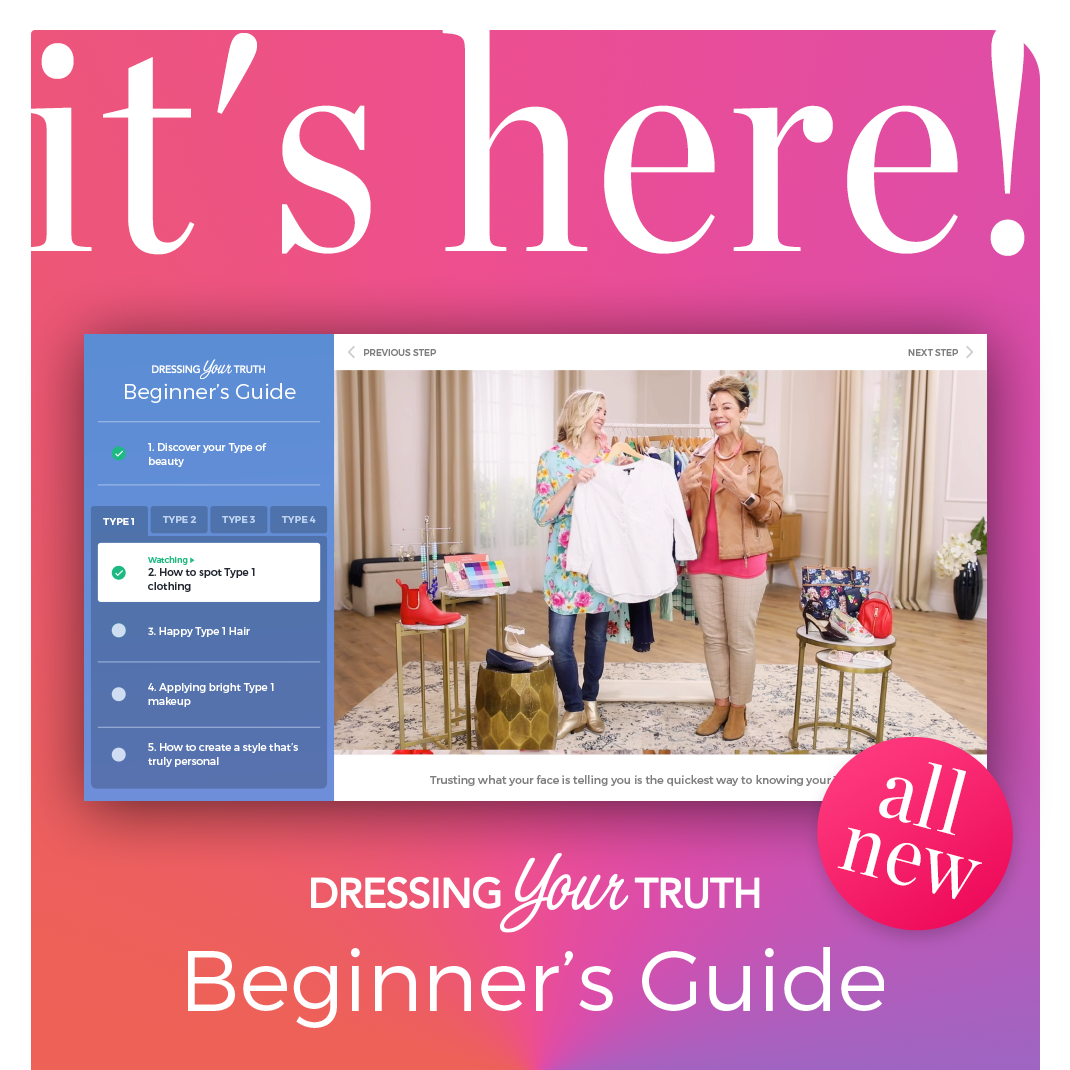 If you'd like to see Dressing Your Truth Before and After photos, be sure to check out my Style and Fashion section.
Pin me!