Get the perfect, easy Thanksgiving menu right here! All the recipes for turkey, sides, salads, and desserts you need to make your Thanksgiving the best ever!
Are you one of those people who has the same thing for Thanksgiving every year? Or do you like to find new things to try? There's nothing wrong with either approach! Except maybe the time it takes to search up new recipes, and the stress caused by hoping that they taste good (especially if you are having guests).
Today I have you covered, because I'm sharing my EXACT Thanksgiving menu full of tried-and-true recipes. Just scroll down for links to recipes and tips and tricks for the best Thanksgiving dinner ever!
(This post has affiliate links).
The Turkey
Obviously, the turkey is the first thing we need to talk about. There are tons of methods for cooking a turkey, from roasting it in the oven, to baking it in one of those special plastic bags, to using a stand-alone turkey roaster. My favorite method is using an electric turkey roaster. I like using a roaster because:
It is plugged in and sits on your counter, thus freeing up valuable oven space. I am lucky enough to have two ovens, but if you just have one oven, you know that juggling the many things that need to be baked on Thanksgiving can be a challenge!
It is safer to get a turkey out of a roaster than out of an oven. I think even your personal trainer would tell you not to try to lift a 20-pound weight from a burning hot oven while bending at the waist. That can't be good for your back! Plus, there is always the danger of getting splashed with hot turkey drippings while you transport the turkey from your oven to your counter.
You don't need to baste the turkey. The lid of the roaster oven catches the condensation and keeps the moisture inside so your turkey will be nice and tender.
I have the 18 Quart Rival Roaster Oven, and I love it! You can click on the link or the picture here to go to Amazon and order one if you like.

I also highly recommend a digital thermometer. This ThermoPro digital thermometer looks amazing! You can plug it into your bird and leave it there the whole time it's cooking! The display sits on the countertop, so you can see what the temperature of the bird is without lifting the lid or opening the oven door. (Yes, you can use this in the oven!)
You can even set the thermometer to sound an alarm when the turkey reaches the right temperature! No more accidentally overcooking your turkey, and no nervous checking repeatedly to see if it has reached the right temperature!

How to Roast a Turkey in an Electric Roaster Oven
There is a great recipe and instructions for this at Genius Kitchen. Basically, you want to smother your bird in butter or olive oil and place it into the roaster set to its highest temperature (450 or 500 degrees F) for thirty minutes. This is so your skin will crisp up and turn brown.
After the thirty minutes are up, reduce the heat in the roaster oven to 325 degrees F. and continue baking until the temperature of the breast is 165 degrees F. and the thigh is 180 degrees F.
(Honestly, because the roaster oven retains so much moisture, you won't get a really crispy skin. That is one drawback to this method if crispy skin is important to you. I'm much more concerned with tender, juicy meat).
Wondering how long to cook your turkey? The Butterball website has handy charts for you.
Thanksgiving Side Ideas
Now that the turkey is taken care of, let's talk about Thanksgiving sides! Here is what I'm having:
Garlic Mashed Potatoes. You actually cook these potatoes in a mixture of milk and water, and there is no draining involved! The potatoes suck up the moisture and come out perfectly tender and creamy.
(For an alternative, you can try Gourmet Mashed Potatoes. They are made the traditional way with some of the skins left on. Or if you want a delicious cheesy potato casserole, try the ever-popular Funeral Potatoes).
Garlic Ginger Green Beans. Forget the canned, gray beans and the cream of mushroom soup. Use fresh green beans instead with caramelized onions and a lovely hit of soy and ginger. Oh, and bacon, of course 🙂
(For an alternative, try Roasted Carrots with Dill. My family LOVES these carrots! They are super easy to make, and they disappear in two minutes flat!)
For the sweet potatoes, I stick with super-simple. My mom always just baked them and served them sliced in the skins. I've never been a big sweet potato casserole fan. (Not that I would ever turn one down, mind you). But we are trying to keep things simple here. So I recommend simply baking them in the oven, and then scooping out the flesh and mashing it (if desired). Some butter and salt and freshly ground pepper are all that's needed for this naturally sweet side.
You can get great instructions for preparing your sweet potatoes at Delish.com.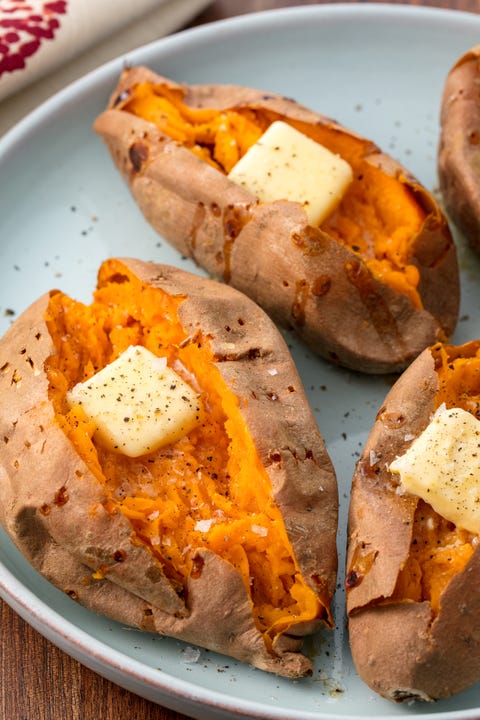 For the stuffing, I honestly just use Stove Top 🙂 But if you want to make it from scratch, I found this Easy Turkey Stuffing Recipe on the Betty Crocker website that doesn't require turkey drippings or giblets or other special ingredients.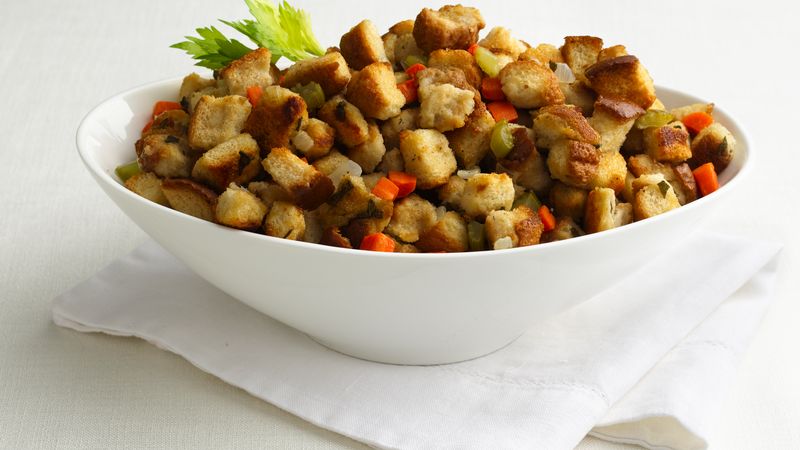 Thanksgiving Salads
Now let's talk about the salads that I MUST make every year! First is the 7-Layer Salad. (This recipe is from Tasty Ever After). It's got layers of lettuce, onions, celery, frozen peas, and hard-boiled eggs topped with a creamy dressing, crumbled bacon, and cheese. You make this a day ahead so the peas can thaw (and so you can save yourself time on Thanksgiving day!)
(For another crowd-pleasing alternative, you can make this Christmas Craisin Broccoli Salad).
The second is Pink Lady Salad. This is the most beloved salad of all time at my house, and I have to make it for every single holiday. (Well, maybe not Halloween, but seriously, every other holiday). It is SUPER easy to make and just has strawberry jello (powder), cottage cheese, strawberries, and whipped cream. I do recommend you make this on Thanksgiving day (rather than ahead of time).
Thanksgiving Rolls
Only slightly less important than the turkey is/are the rolls. Am I right? I'll be making these Overnight Yeast Rolls, because I can make the dough the day before, but still bake up fresh rolls on Thanksgiving so they'll be nice and hot for dinner.
(If you want more options, be sure to check out my post of 20 To-Die-For Thanksgiving Roll Recipes).
Thanksgiving Dessert Ideas
O.K. I may have been mistaken. Second only to the turkey is DESSERT! Of course, you must have the classic Pumpkin Pie! For here, I just go right to the source and use the recipe for Libby's Famous Pumpkin Pie.
The other pie that is also a MUST is this Chocolate Pecan Pie. This is one of the most popular recipes on the blog, and for good reason! It's basically the best thing ever. I recommend you make this pie a day ahead. It keeps perfectly at room temperature.
(For more great pie ideas, click over to my post for Showstopping Thanksgiving Pies.)
There you have it! The perfect, easy Thanksgiving menu that will save you time (and keep you sane) on Thanksgiving!
What are your "must have" Thanksgiving dishes? Did I miss any? Let me know in the comments!
Be sure to pin this or bookmark this page!