If you are interested in Dressing Your Truth and discovering your Type of beauty, be sure to check out this Dressing Your Truth Type 2 Makeover!
This is my friend Lisa. We became friends because she followed me right here on Beautiful Life and Home and was always super supportive of any videos I posted on Facebook.
When she found out I was coming to Utah, she wanted to meet! I happily obliged, and asked her if she would let me take some pictures of her and interview her for my site.
And although very few of us like getting our picture taken, Lisa was brave and let me do it 🙂 She really had nothing to worry about, because she is a gorgeous Type 2 woman who knows how to style herself to bring out the most of her natural beauty!
What is Dressing Your Truth?
Dressing Your Truth is a whole new way to think about style. It was developed by a woman named Carol Tuttle, who has written several books, like It's Just My Nature and The Child Whisperer. (Both phenomenal reads, by the way).
Dressing Your Truth throws conventional wisdom on its head and teaches that our natural energy should inform what we wear–not our eye color, hair color, skin color, or body shape.
It works for everybody, no matter their coloring or nationality. For example, red-heads can look amazing in muted colors if they are a Type 2!
The whole premise is that what we wear on the outside should match who we really are on the inside. Instead of trying to portray an image of what we think we should be (more bold, confident, fun, etc.) we should harmonize with our true nature. THAT is when we really shine!
What are the Dressing Your Truth Types?
Dressing Your Truth has four Types, named simply Type 1, Type 2, Type 3, and Type 4. (Just click on any of the following links to learn more about each Type).
Type 1 is the Bright, Animated woman.
Type 2 is the Soft, Subtle woman.
Type 3 is the Rich, Dynamic woman.
Type 4 is the Bold, Striking woman.
How did Dressing Your Truth Change Lisa's Life?
I asked Lisa to share her journey with Dressing Your Truth. As you read her interview, see if you can relate to what she is saying. If so, you might be a Type 2!
Me: How did you first learn about Dressing Your Truth, and what attracted you to it?
Lisa: I first learned about it about 6 years ago. It was through an acquaintance, and to be honest, it sounded pretty hokey to me.
I looked into it briefly and immediately shut it down in my mind, telling myself "I wasn't ANY of those beauty types" and "Carol Tuttle just wants my money!"
The truth was that I was not ready for change. Then my sister-in-law came in town for a visit and was telling me about it again. She didn't really do DYT, but had a friend that was into it. She shared a little bit with me.
At that time I was feeling pretty desperate and hated my ENTIRE wardrobe. I had nothing to lose. If it worked, great! If not, I wasn't any worse off.
Me: How did you know you were a Type 2?
Lisa: After going through the short free online course and studying it a bit I learned that I was most likely a Type 2. But I had NEVER worn dusty, muted colors and the thought of doing so was horrifying to me. I was very skeptical, but still curious.
I then drove myself to the local Goodwill and put some clothing items into my shopping cart. It was almost painful for me to even pick the bland-colored clothing off of the rack and put it into my cart! But I persevered!
I went into the dressing room and tried on this soft mauve t-shirt with a rose on it. I looked in the mirror and could not believe my eyes. My jaw literally dropped to the floor! There, standing in a Goodwill dressing room, I looked and felt beautiful for the first time in my entire life.
I was 40 years old!
Me: What are some of the challenges you have faced as a Type 2 woman?
Lisa: Most of my life I have felt like I was overlooked. I have spent forever and a day trying to stand out and failing miserably. I am still not likely to do what the crowd is doing, but I really try hard to be true to myself.
Each beauty type has strengths and weaknesses. One weakness is that I tend to be kind of like a slug. Slow to get things done.
Perhaps I procrastinate too much. (But, I'm reliable so it usually gets done….just a little later than I would like.)
Me: What do you love about being a Type 2 woman?
Lisa: I really love learning that it is o.k. to be quiet or slow to speak.
I love being able to sit back and observe the world around me.
I love that I have a calming influence on those around me. People feel more at peace when I am around.
I love that I am a planner and into the details. Learning this strength has really been amazing.
I have much to offer this world. I can see what needs to be done to make something happen. I can play out all the scenarios in my mind and pick the best one.
I love that I am devoted and willing to serve and make the world around me a better place.
I have learned that I really enjoy people. I need people around me to make me whole. More people for me to love and for them to love me back!
Me: How has knowing your Type and the Types of others changed your relationships with them?
Lisa: This has been the BEST part of Dressing Your Truth for me. The RELATIONSHIPS!!!
I can now read faces better and don't get offended when other people act true to their type.
I have learned that the world is full of amazing DIFFERENT people. I can give others grace when they make (what I think of as) mistakes.
It is o.k. for others to be different than me and to think differently than me. In fact, it can be celebrated!
I can also allow myself grace when I don't live up to my own high standards.
My children are each so unique and I celebrate their personal energy and help them become the best they can be.
The clothing and how to put together an amazing outfit is nice, but knowing WHO I am and how to interact with the world around me it what is most significant.
Me: Any other thoughts or insights you would like to share?
Lisa: I just want everyone to know who they are.
Each of us was born with a special, God-given energy. Knowing who I am has given me such confidence and power. I can love me just the way I am.
Sure, I want to be a better person and live up to my full potential. I am constantly trying to improve. But knowing that I am enough and perfect just the way I am is so calming.
When I started the Dressing Your Truth program, it wasn't free. In fact, I invested a nice little chunk of money. It was worth EVERY penny to me! My whole life changed. A new, beautiful world opened up to me.
Now Carol Tuttle's program is completely FREE. She doesn't just want my money after all! Ha, ha! She is an amazing business woman and I'm so glad she has put this program out there for everyone to benefit from.
What do you have to lose? Just go check it out! I hope you love it as much as I do!
Did you love Lisa's interview? Do you relate to anything she said? If not, you are a different Type and have a wonderful journey of discovery ahead of you!
I encourage you to click on the graphic below, or any of the other links in this post to learn more about Dressing Your Truth!
Like Lisa, I spent several hundred dollars on this program. But it is now FREE! Lucky you! Just click below to get started!
Better yet, watch me do a Dressing Your Truth Makeover on myself so you can see this in action. Then click straight from the video to get your free makeover!
Just click here to get access to my makeover video!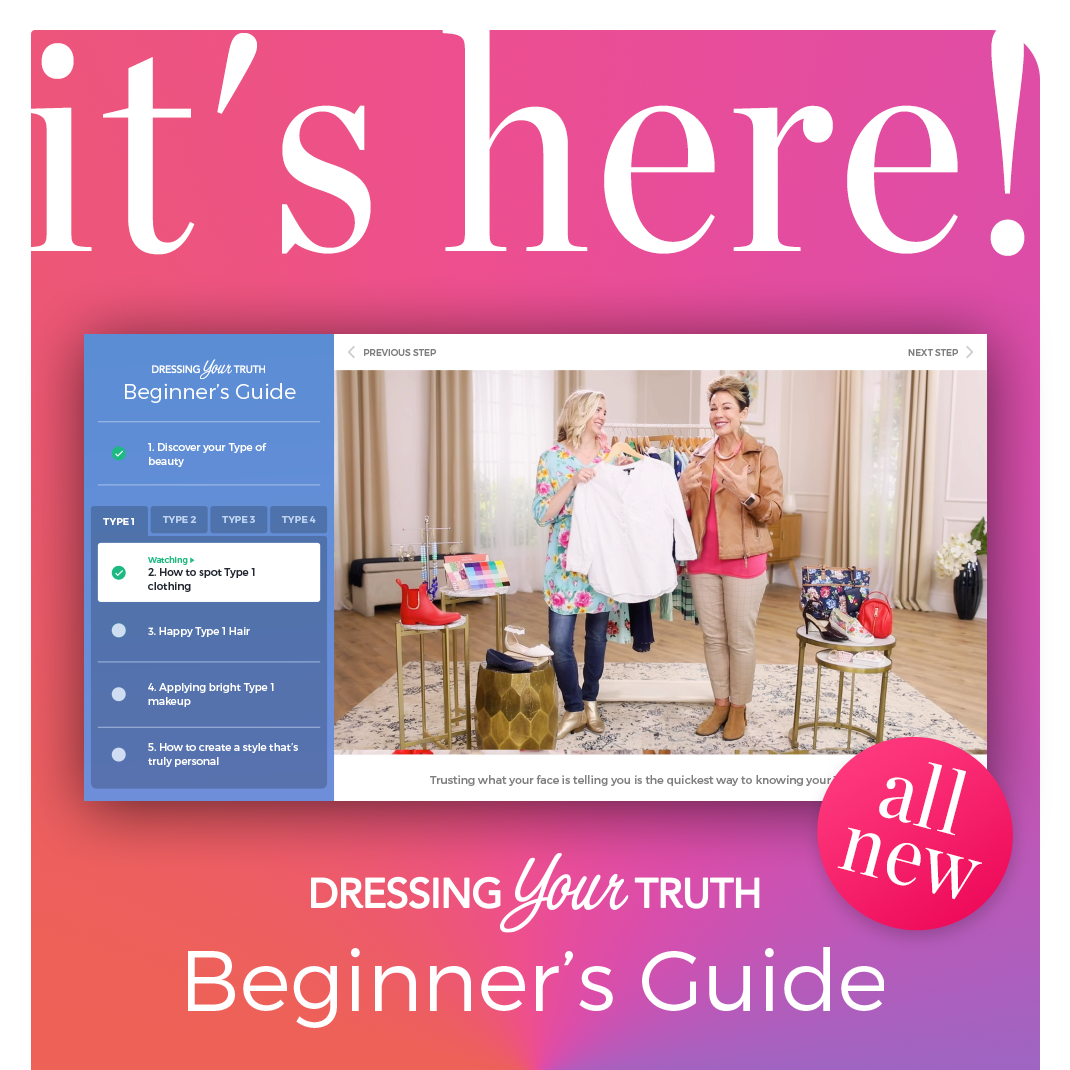 If you'd like to see Dressing Your Truth Before and After photos, be sure to check out my Style and Fashion section.