Whether you call them Classic Blondies or Butterscotch Brownies, you need this Best Blondie Recipe Ever in your life! Perfect to whip up at the last minute for any occasion, this chewy blondies recipe is a must-have for everyone!
Was your mom a chocolate brownie person, or a blondie person? When I was growing up, my mom made blondies for everything. Church party? Make blondies. School fair? Make blondies. No reason at all? Make blondies. In fact, my mother NEVER made chocolate brownies. But don't feel too bad for me, because her classic blondies were amazing. Only she didn't call them "blondies." They were always called "Butterscotch Brownies."
Today's Freebie!
What are Blondies brownies?
Traditional brownies are made with chocolate and they are–well–brown. Blondies don't have any chocolate and they come out with a nice golden color that is much lighter than traditional chocolate brownies. I suppose that's how they got their name.
What do Blondies taste like?
Blondies get most of their flavor from brown sugar and vanilla. They have a butterscotch-type flavor, even though they don't have any butterscotch chips or butterscotch pudding mix or any other added flavor.
How to make Blondies chewy
One of the hallmarks of a good blondie is that it is tender and chewy. Blondies use brown sugar exclusively (no white sugar). The brown sugar has a higher moisture content than white sugar, which is what makes the blondies nice and chewy. But make sure you don't overbake them, or they will be dry.
Ingredients for Blondies
This easy Blondie recipe only has simple ingredients that you always have on hand.
Vegetable oil
Light brown sugar
Large eggs
Vanilla extract
All-purpose flour
Baking powder
Salt
How to make Classic Blondies
These are seriously so simple to whip up. I don't use a blender or stand mixer. I just use a medium bowl and a wooden spoon.
1.Add the light brown sugar and vegetable oil to the bowl and stir with a wooden spoon until their are no lumps of sugar.
2. Add the eggs and vanilla and mix well.
3. Add all the dry ingredients and mix just until the flour disappears.
4. Transfer batter into a greased and floured 8×8″ square baking pan and bake in a 350-degree F. oven for 30 minutes. (If you prefer, you can line your pan with parchment paper or aluminum foil for easy cleanup and to remove all the brownies from the pan at once).
That's it! There's no creaming, no whipping, no waiting for ingredients to come to room temperature. It could not be easier!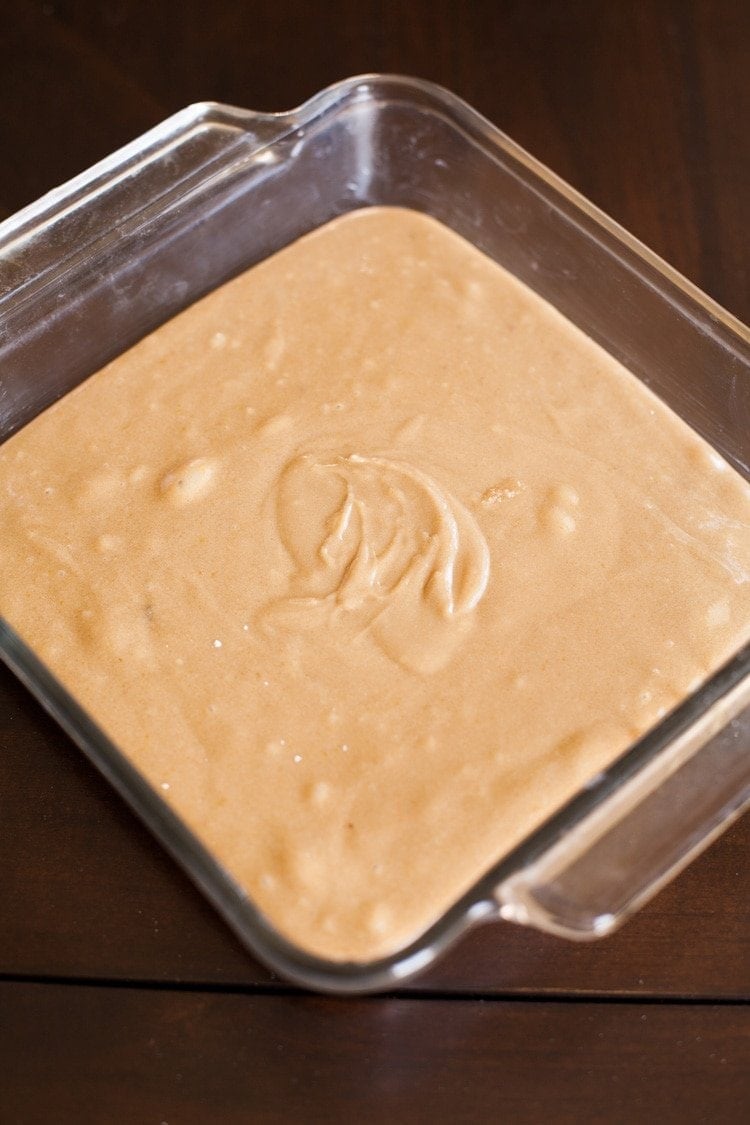 What kind of oil do I use in blondies?
You can use practically any kind of oil or fat in these brownies, but different varieties do affect the appearance of the brownies. I find that melted butter and coconut oil cause the brownies to be a little more "wrinkly" around the edges, while vegetable oil gives it that perfect crackly top. Coconut oil also causes the brownies to seem a little more greasy (which is what I typically find with recipes that use coconut oil).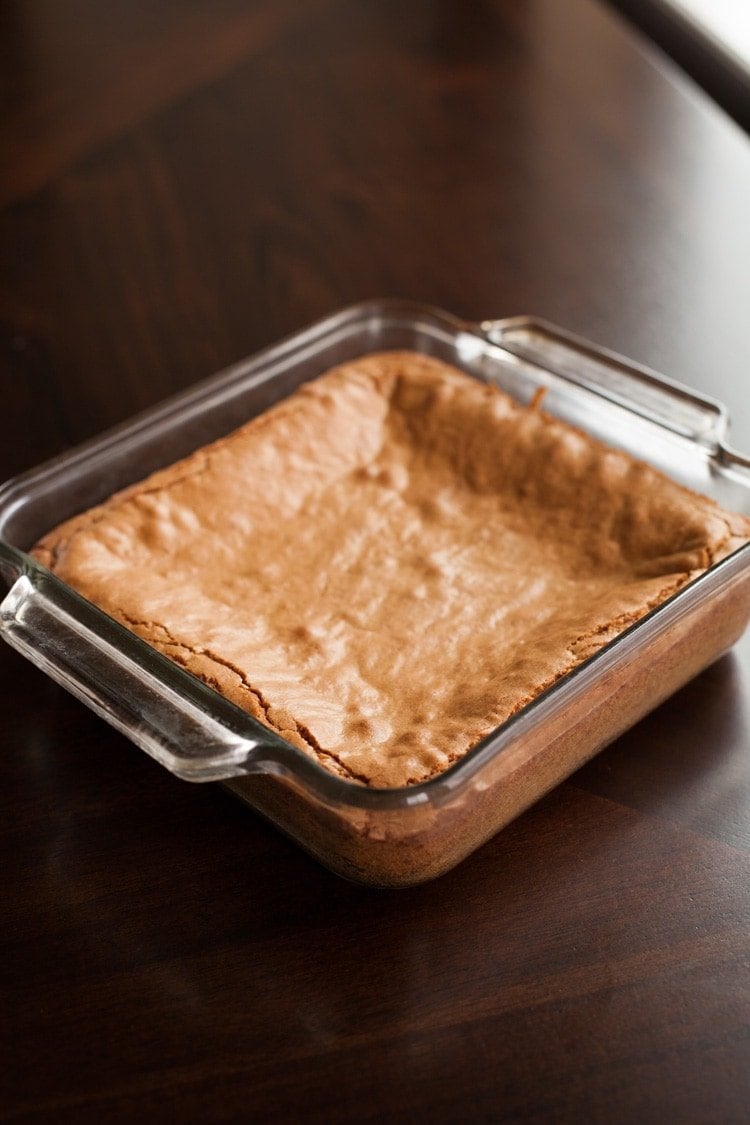 What size pan do I bake blondies in?
My mom's original recipe says to bake these in a 9×11 pan. Since that is not a standard-sized pan, I have baked these blondies in both a 9×13 and 8×8 pan. If you use a 9×13 pan, you can expect rather thin blondies. I personally prefer to use an 8×8 pan so I can get nice, thick blondies. This recipe suggests a baking time of 30 minutes for an 8×8 pan. (If you use a 9×13 pan, you'll need to reduce the baking time to about 22 minutes).
As you can see in the picture above, the blondies sink down in the middle during baking. Every pan of blondies I have ever made in my whole life has done this. I think it is just the nature of blondies. So don't despair. All it means is that there are perfect blondies for everyone! People who like super soft blondies from the middle of the pan, and people who like the edge pieces with a little crunch. (Those are my favorite!)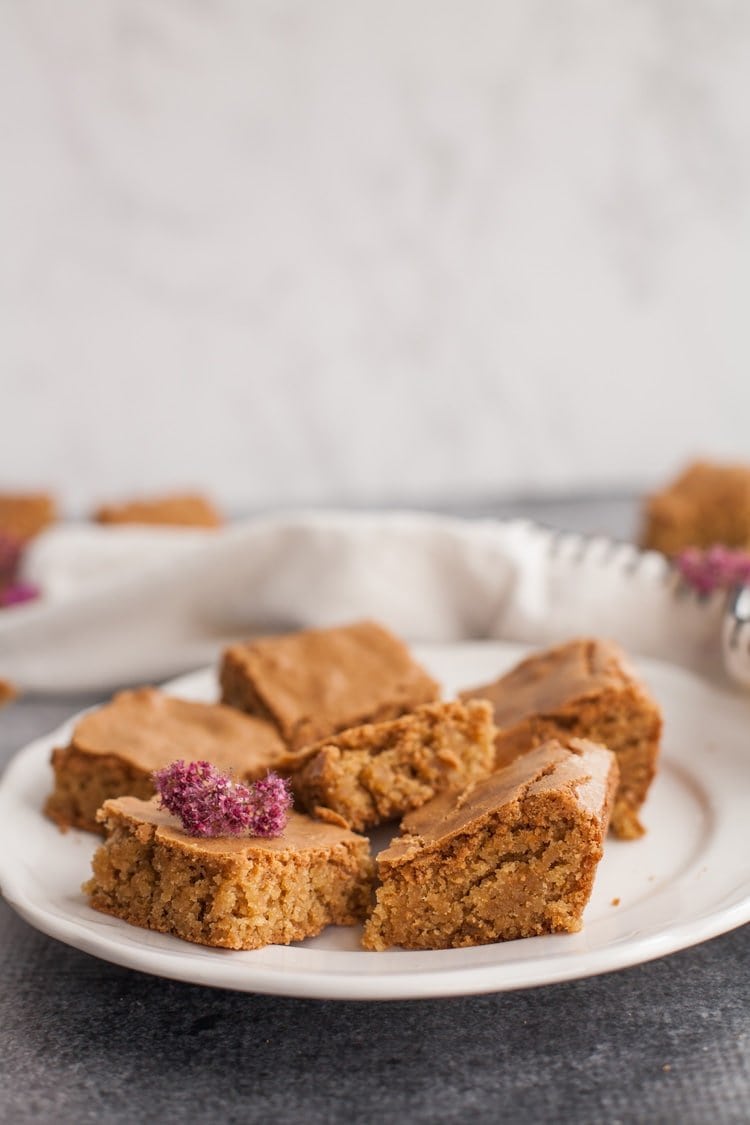 These are SUPER fast to whip up, and I guarantee you already have all the ingredients right now. So the next time you need a treat in a hurry (without a trip to the store), these classic blondies are just the ticket!
What can I add to Classic Blondies?
There are lots of different variations for blondies! Try adding any of the following:
White chocolate chips
Semi-sweet chocolate chips
Shredded coconut
Chopped walnuts
M&M candies
Want more delicious treats you can make in no time? Try these!
This recipe first appeared on Yellow Bliss Road, where I am a contributor.
Today's Freebie!
Best Blondie Recipe Ever
Whether you call them Classic Blondies or Butterscotch Brownies, you need this recipe in your life! Perfect to whip up at the last minute for any occasion, these chewy blondies are a crowd-pleaser, every time.
Keyword:
butterscotch brownies, classic blondies
Ingredients
1/2

cup

vegetable oil

1 1/3

cup

light brown sugar,

packed

2

eggs

1

teaspoon

vanilla extract

1 1/2

cups

all-purpose flour

2

teaspoons

baking powder

1

teaspoon

salt
Instructions
Preheat your oven to 350 degrees F. Grease and flour an 8x8 baking pan or glass baking dish.

In a medium-sized mixing bowl, stir together the vegetable oil and sugar until no lumps remain.

Add the eggs and vanilla and mix well.

Add the flour, baking powder, and salt, and mix until just blended and the flour disappears, with very few lumps.

Pour into your greased and floured pan and bake for 30 minutes. Allow to cool completely before cutting and removing from pan.
Recipe Notes
Be sure to scroll up and read the post for important tips and information about these classic blondies!
Pin me!